Friction lining (friction ring) (photo production)
| | | |
| --- | --- | --- |
| Code | Designation Size mm O external* O inside * H caliber. | Applicability |
| | 65*0*10 | |
| | 65*45*15 | |
| | 70*30*12 | Friction lining drive coupling |
| К-1282 | 70*46*5 | |
| | 80*35*12 | |
| | 85*0*8 | |
| | 100*45*5 | |
| | 100*65*5 | |
| | 102*34*12 | |
| | 105*22*25 | |
| | 108*70*60 | |
| | 110*70*5 | |
| | 115*59*10 | |
| | 115*65*5 | |
| | 117*87*10 | |
| | 120*60*4,5 | |
| | 120*65*8.5 | |
| | 120*85*4 | |
| | 127*90*4 | |
| | 130*35*7.5 | |
| | 130*110*8 | |
| | 132*50*12 | |
| | 132*40*12 | |
| | 140*80*4.5 | |
| | 140*75*6 | |
| | 140*70*4 | |
| | 140*20*4 | |
| | 140*85*4 | |
| | 145*65*4 | |
| | 150*80*8 | |
| | 150*94*4 | |
| | 150*91*3 | |
| | 150*120*4 | |
| | 150*125*2 | |
| | 150*94*4 | |
| | 150*91*3 | |
| | 150*120*4 | |
| | 165*110*8 | |
| | 165*115*4.5 | |
| | 170*120*4 | |
| | 176*65*4 | |
| | 176*130*4 | |
| | 176*130*5 | |
| А-59.01.201 | 180*100*4,5 | ЮМЗ-6, МТЗ-50, 52, 80, 82 |
| 50-1605118-Б | 180*100*4,5 | ЮМЗ-6, МТЗ-50, 52, 80, 82 |
| 50-1605118 | 180*100*4,5 | ЮМЗ-6, МТЗ-50, 52, 80, 82 |
| | 180*130*10 | |
| | 184*143*3 | |
| | 185*65*12 | |
| | 190*140*3.5 | |
| | 195*115*4 | |
| | 197*137*15 | |
| | 198*150*5 | |
| | 200*130*4.5 | |
| | 215*140*4 | |
| | 220*140*6 | |
| | 220*150*4 | |
| | 225*140*4.5 | |
| | 225*140*5 | |
| | 230*150*5 | |
| | 230*140*4 | |
| | 235*185*4 | |
| | 235*160*4 | |
| | 240*185*5 | |
| | 240*160*3.5 | |
| | 250*150*4 | |
| | 250*185*4 | |
| | 250*100*8 | |
| | 250*190*4 | |
| | 255*187*5 | |
| | 260*200*4 | |
| | 260*160*10 | shaper-vulcanizer |
| | 265*210*4 | squaring shears, pneumatic |
| | 270*120*6 | |
| | 270*210*10 | |
| | 275*172*6 | |
| | 275*185*5 | |
| | 275*194*6 | |
| | 280*145*5 | |
| | 280*165*5 | |
| | 280*180*4 | |
| | 280*185*4 | |
| | 280*185*6 | |
| | 285*155*5 | |
| | 295*225*4 | |
| | 295*225*6 | |
| | 295*254*4 | |
| | 295*255*4 | |
| | 298*246*4,5 | |
| | 300*100*10 | |
| | 300*165*8 | |
| | 300*200*10 | |
| | 300*208*5 | |
| | 300*210*60 | |
| | 300*235*5 | |
| | 300*250*4 | Press type КД 63т. |
| | 305*220*13 | |
| | 305*255*5 | |
| | 308*208*6 | |
| | 310*0*13 | |
| | 310*200*16 | |
| | 310*205*8 | |
| | 310*220*5 | |
| | 310*220*7 | |
| | 310*230*4,5 | |
| | 310*240*4 | |
| | 310*250*5 | |
| 36-1604047-Б1 | 316*156*4 | КМЗ, ЮМЗ-6 |
| 36-1604047 | 316*156*4 | КМЗ, ЮМЗ-6 |
| | 316*250*4 | |
| | 320*206*6 | |
| | 320*220*5 | |
| | 320*220*6 | |
| | 320*150*6 | |
| | 320*270*4 | |
| | 322*142*5 | |
| | 326*140*6 | |
| | 330*250*6 | |
| | 340*185*6 | |
| 70-1601138 | 340*200*4 | МТЗ-50, 52, 80, 82, 100, 102 |
| | 340*240*10 | |
| | 340*270*5 | |
| | 342*284*7 | |
| | 345*284*7 | |
| | 355*290*4 | squaring shears Н 33222Ф1 |
| | 355*290*5 | |
| | 355*295*4 | |
| | 355*295*5 | |
| | 358*238*5 | |
| | 360*280*5 | |
| | 360*290*5 | |
| | 365*305*8 | |
| | 375*290*4 | |
| | 380*280*6,5 | |
| | 380*286*6 | |
| | 380*290*5 | |
| | 380*290*6 | |
| | 390*290*6 | |
| | 395*240*3,5 | |
| | 398*173*18 | |
| 01М-2141А | 400*220*5 | Т-150к, Т-4А, СМД-60, ТТ-4 |
| 236-1601138А3 | 400*220*4,15 | Т-150к, Т-4А, СМД-60, ТТ-4 |
| 236-1601138 | 400*220*4 | Т-150к, Т-4А, СМД-60, ТТ-4 |
| | 416*268*6 | |
| | 420*310*8 | |
| | 420*270*6 | |
| | 430*240*3,5 | |
| | 440*370*6 | |
| | 450*380*4 | |
| | 450*390*4 | |
| | 450*390*6 | |
| | 460*380*5 | |
| | 480*320*18 | |
| | 480*320*26 | |
---
With the invention of the wheel, a man began to look for the ways not only to accelerate, but also to brake his vehicles, shafts and mechanisms at its plants. In modern braking device / clutch is used to using specially developed for this purpose materials with typical characteristics for better transmission of torque, slower wear, safe and durable service drive coupling in the art.

Friction lining in the brake and clutch drag are the subject of constant monitoring. If it wear-out it becomes necessary to replace them with the new ones made of quality materials with modern standards. These actions determine the safety and operational efficiency of the vehicle, tractor, squaring shears, air-control valve or press at enterprises.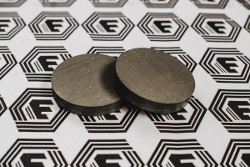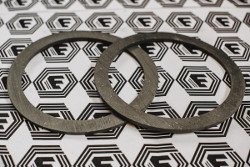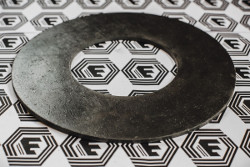 private entepreneur Shinkarenko produces friction linings in a wide variety of shapes and sizes, made of high quality materials using modern technologies.

Brake friction linings often break down for two main reasons:
Thermal destruction due to lack of downforce
Overheating due to violation of cooling


These two cases are the most common reasons, when friction linings are bought, the price of them corresponds to the market, and the process of production determines their excellent quality, which is appreciated by our clients turning to us again and again, when they hava a need to buy friction ring.

As we know that you need the brake friction linings or friction linings for engagement unit of high quality, we offer only the products that pass a strict quality control upon indications: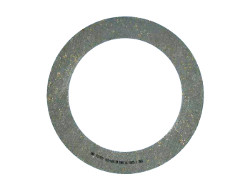 Thermal stability
Thermal conductivity (Brake pad must effectively dissipate heat, since the braking process is the process of converting the kinetic energy into the heat. A high-quality pad is able to withstand the heat in the operating temperature range)
The dynamic properties (ability to work with different clamping forces uniformly while passing torque)
Static quality (strong adhesion ability to transmit high torque)
Mechanical strength
Wearing qualities

The linings made by high-temperature sintering (pressing) the mixture of powders of carbides, metal oxides, asbestos, graphite, barite, molybdenum disulfate meet best all indicators of these characteristics. Therefore linings made by private entepreneur Shinkarenko are used in extreme duty cycles, where reliability and durability is important. High temperature pressure favorably stands out from the "cold" production method.
These products, due to higher performance, service longer and more reliable in exploitation. In case if you think about what friction lining ring to buy, be sure that the products manufactured by sintering - straight from the hood!

In large vehicles in the brake or clutch mechanisms, as well as in agricultural machinery, aviation, enterprises in the press-forging, forging and other equipment, the replacement of the friction rings (friction drive clutch) is a typical case of service.
In our catalog you will find the friction linings for any needs for your business, airplane, truck, tractor, press, or any other technique. If you need to buy the friction, the price is in the price list of private entepreneur Shinkarenko will surprize you, and the quality of their production will convince the competence of the employees of our company.