Friction pads (Photo production)
Code
Designation Size mm L length. B width*. * R1 / R2 * N sequences
Applicability
View
УД 1303
Ddiameter*Hwidth. 82*30
Press К 2130 (160т)
УД 1303-2
Ddiameter*Hwidth. 82*32
УД 1303-3
Ddiameter*Hwidth.82*35
УД 1303-4
Ddiameter*Hwidth. 82*36
УД 1303-5
Ddiameter*Hwidth.82*40
Press К 3732
4EK-1616
136*80,75*32*227,75*70,5
РЕЕ(2)-160т, РЕЕ(1)-250т
75532.3.1
152*86*252,5*80*34
KPO, guillotine scissors "Henry Pels'
75532.3.1-1
152*86*252,5*80*36
4ЕК-130-1
152*86*252,5*80*30
Press РЕЕ(1)400 guillotine scissors mod. ScTp18/3150
4ЕК-130
152*86*252,5*80*36
PKЗ 500/1000 brake
175*100*36*287,5*90
Press PKZ 500/1000
75533.3.1
197*115*320*100*34
KPO
3262-01.072
197*115*320*100*40
4ЕК-128
197*115*320*100*38
4ЕК-128-1
197*115*320*100*36
Press - scissors ScTp25/3150 Erfut
4ЕК-128-2
197*115*320*100*39
4ЕК-128-3
197*115*320*100*42
3232-01.072
197*115*40*320*100
KPO
0021
223*130*360*115*38
KPO
4ЕК-127
223*130*360*115*40
Press DS1250/1600, DS800/1250, 630 scissors
75525.3.3
223*130*360*115*42
630т scissors
4ЕК-3346
282*160*455*145*46
УA-3141
75*60*30*20
The clutch-brake freak. pneumatic 1250 kg See
КД-1426
75*60*30*26
Press odnokriv. Vc. 40t mod. KD-1426
26-60-75
75*60*30*29
clutch-тормоз пресса однокрив. Ус.40т мод. КД-1426
КТ 154-032
75*60*30*29
Wheeled. Brake with the one-IL-76, Yak-50
У-1141-803
110*60*30*39
KPO
УД -1830А
110*60*30*40
Press K2542, clutch-brake press one krivosh. us.100 / 63 mod.KA-5530 forging machine in 1138
УД -2638
110*60*30*45
Press КА 8540, К-2534
УД -2638-1
110*60*30*48
К-274-21М-801
110*90*45*32
Press КА 9536, Н 1534
К-274-21М-802
110*90*45*34
К-274-21М-803
110*90*45*35
УД -1414
110*90*45*40
Scissors sheet events. N481A, insert the drive clutch UD-1414 kuzpress
УД -1414-1
110*90*45*45
УД -1602
170*90*45*42
KPO
К-8540
170*90*45*45
Press К-8540
140*110*55*42
W / n to import. Equipment in 1138
140*110*55*50
К 3047-22-903
210*160*80*46
W/n to import. equipment
7121-0145
97,7*106,7/46,8*22/22*44
Presses Yugoslavia 150, 250, 500, UP-1000
PKЗe-500
180*94*400*227.5*45
ScPK1-500 clutch
175*100*36*525
Press ScPK1-500
ScPK-800 clutch
180*102*40*248
Press - scissors ScPK-800
ScTP 25/3150
196*115*320*45
ScTP 25/3150
196*115*320*42
ScTP 25/3150
196*115*320*40
Press ScTP 25/3150
ScTP 25/3150
196*115*320*38
ScPK-800 тормоз
226*130*40*320
Press ScPK-800, SKY-500 press scissors
PKЗЗ 1250/4000
258*145*46*405
Press crank-type PKЗЗ 1250/4000
ФA-124
D1120*D1070*В80*H25
ФА-124
D1120*D1070*В80*H27
ФА-127
D1398*D1350*В100*H24
ФА-127
D1398*D1350*В100*H25
ФА-127
D1398*D1350*В100*H28
ФА-127
D1398*D1350*В100*H31
ФА-127
D1398*D1350*В100*H40
---
Each specialist who care for all the equipment in his enterprise, knows that it is necessary to make replacement of liners, pads and oilworks timely to make it work good and not allow to crash. Earlier it was very difficult to ensure the stable operation of the equipment and to identify problems in a timely manner, today, but now, in the age of advanced technologies,- it becomes much easier to do. Any problem can be easily detected, and will not have any difficulties in order to solve it, because all the required details can be found in stores or it is possible to make an order as soon as possible and for the best price.

How to ensure a long service life of the equipment?

For a long and reliable service life of all parts of a single mechanism it is necessary to monitor the state of the pads. It is necessary to remember, that the friction pads for press-forging equipment are very important elements. Why? Let's see: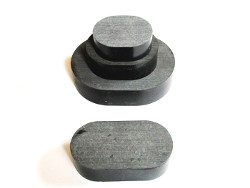 The first and the most important reason is that these pads protect details from the damage and prevent rapid abrasion of them. How? They are located between the parts that should be in constant motion, and take a significant part of the frictional force on itselves. Thus, the pads themselves are gradually erased, but the actual details keep their original look and specifications. Probably, - this is the main reason to buy friction pads for all your equipment.

Moreover, such pads help to prevent the occurrence of such a process as a metal corrosion. They protect the parts from touching each other. Otherwise, some day or other it would lead to corrosion.

On the basis of these two main reasons, you can draw conclusion, that the work of your company will be very difficult without these helpers. To avoid constant repair, you just have to watch out for the replacement of these small, but very important element in time.

What kinds of pads exist?

If you begin to choose friction pads for press-forging equipment yourself, without any advice from the experts in this matter, you should remember a few important points:

First, there are two basic materials from which today are made pads - etoretinaks and press-composition. They are characterized by high performance, and the prices are always reasonable enough. In addition, it is worth remembering that one of the highest quality materials today is also the ceramics.

Secondly, in order to buy the friction pads without any difficulties, you have to know exactly the following: the height of the detail required, length, radius and width. Since there are more than fifty variations, you can make a mistake, so you should have accurate information easily. In addition, if among the sizes provided you can not find the suitable one, you should provide the sack drawing with all the necessary data and make an order for its manuФАcturing.

If you have all the necessary information, you can buy the friction pads on the site of our company. You will be pleasantly surprised with the price of any commodity, as we always try to walk the plank to our customers and to provide even the highest quality at a reasonable price. Ukraine, in the ФАce of our company is ready to provide you with quality products and guarantee its long and reliable service, so feel free to place orders and be quiet for your production.